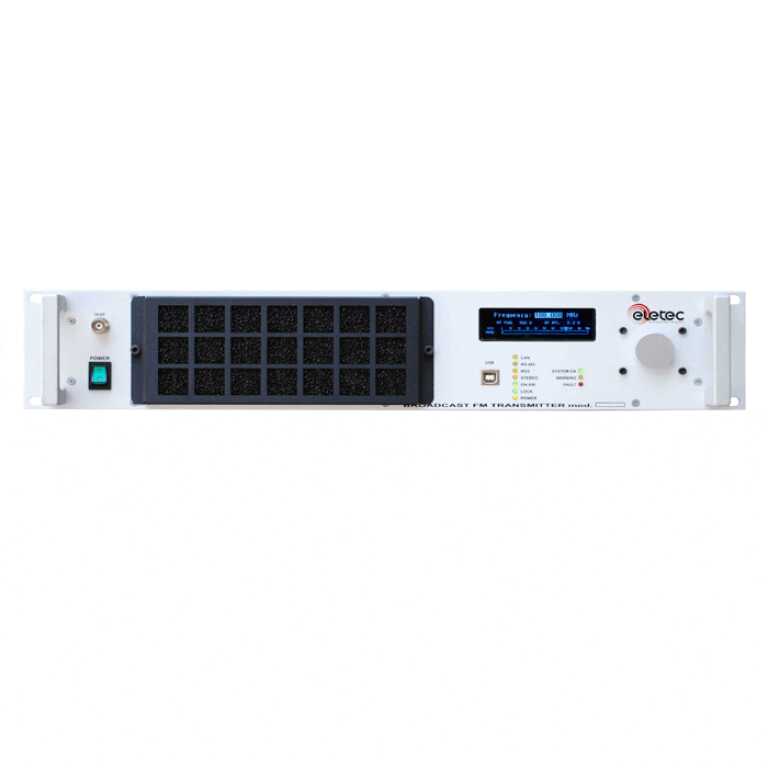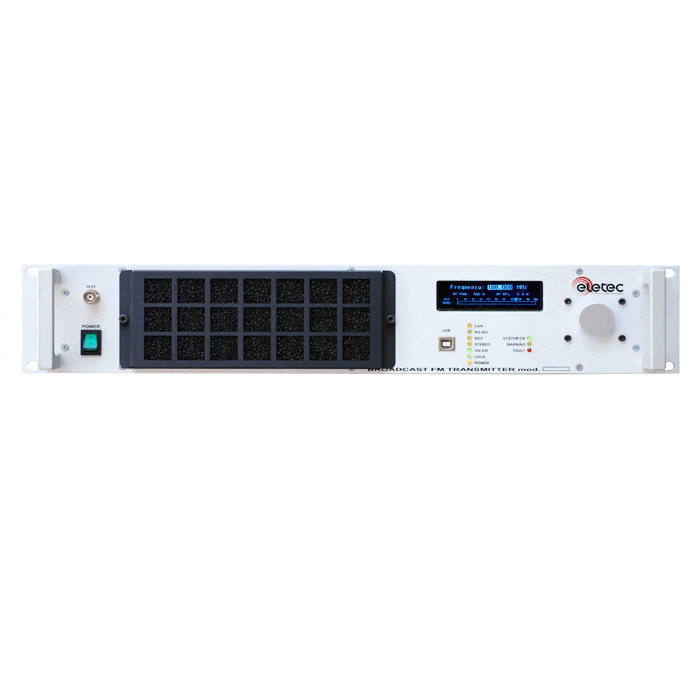 EL600D 600W Digital FM Transmitter
December 15, 2022
DAB Broadcast Transmitters
December 15, 2022
1200W Broadcast FM Transmitters and Amplifiers – Exciters / All-In-One Transmitters Digital Serie
1200W FM Exciter Transmitter
Digital FM Transmitter 1,2 kW
Share
1200W Broadcast FM Transmitters and Amplifiers – Exciters / All-In-One Transmitters Digital Serie
Digital FM Transmitter 1,2 kW
0-1200 Watts Digital PLL Control
MOS-FET technology, Stereo & RDS
TCP/IP Control AES-EBU Inputs
Digital Phase Locked Loop Programmable
FM Exciter/Transmitter 87.5 – 108 MHz Range
FM Broadcast Transmitters mod. ELD1200/S Stereo incl Stereocoder
This new line has those features and functions considered indispensable in today's high class equipments, such as top energy efficiency, telemetry LAN, IP connection and N 1 configuration.
FM TRANSMITTER AND AMPLIFIER 1200W
features:
Excellent audio performance
Compact size in relation to the RF power
Range in power from 10W to 1200w (1.2kW)
Best low power consumption achievable today
Last generation of RF power devices
Frontplane control and metering cia HD Oled Display
Parameters setting by only one rotary knob
Quick and easy to use and immediate learning menu
IP Connectivity for anywhere access
Ready for N 1 system
Options:
High performances Stereocoder
RDS Coder
Telemetry via IP
Technical specifications:
GENERAL
Power Output:………………………from 0 to max. continuously adjustable from front panel.
Frequency Range:………………..87.5÷108.00 MHz
Type of Modulation:……………….Direct frequency modulation of carrier, F3E stereo and mono.
RF Output Impedance:…………..50 ohm.
RF Output Connector: …………..N type
RF Output setting:…………………1W and 10W selectable
VSWR: ……………………………….1.5:1 Max with automatic fold-back VSWR prot. at all phase angles
Frequency Stability: ………………Internal TCXO ±2 ppm from -5 to 50°C (better on request)
Modulation Capability:……………over ±200 KHz
Audio Inputs: ……………………….L&R analog balanced, Unbalanced composite, AES, SCA, RDS
Operator interface setting:…….Encoder Push-Rotary
LCD Display:………………………..Oled hi-definition graphic type
Frequency Control: ………………Synthesizer μprocessor controlled.
Programming step:………………..10 KHz increments
Interface remote control:………..N°2 RS485 ports RJ45 back panel
PC Interface: USB: ……………….connector Type B female front panel
Telemetry:……………………………RJ45 LAN connection with WEB-Server
Monitor RF:………………………….-10 dBm, BNC-F connector
Off Lock RF Muting: ……………..< -80 dBc. RF Harmonics: …………………….Exceeds ETSI/CCIR/FCC requirements.
RF Spurious: ……………………….
Exceeds ETSI/CCIR/FCC requirements. Preemphasis: ……………………..
.Flat/50/75μs selectable from front panel. Asynchronous AM S/N Ratio:….-65 dB below ref.100% AM modulation @ 400 Hz. Synchronous AM
S/N Ratio: …..-60 dB below ref. 100% AM mod. 400 Hz with FM 100% AC Power Factor:………………….0.95 typical at 220VAC Operating temperature: …………-10°C to 50°C.
Max Operating Altitude: …………> 3000 mt.
Relative Humidity Range: ………0 to 95% non condensing.
MONAURAL PERFORMANCE
Operational Modes: ………………Mono (L R)
Input Impedance: ………………….600 ohm or 10 Kohms balanced.
Input Level: ………………………….-6 to 12 dBm in 0,5dB step (Other range on request)
Input Connector:…………………..XLR female – balanced.
Audio Frequency Response:…..±0.15 dB, 30 Hz to 15 KHz.
Preemphasis setting:……………..0, 50μS, 75μS
Audio Filter Attenuation:…………< -55 dB @ 19 KHz, < -50 dB 20 KHz to 100 KHz
T H Distortion Noise:…………..< 0.05% @ 400 Hz
FM S/N Ratio:……………………….better than -80 dB RMS ref. ±75 KHz 50μs deemphasis.
MULTIPLEX PERFORMANCE
Composite Input Impedance:…..600 ohm or 10 Kohms balanced.
Composite Input Level:…………..-12 to 6 dBm in 0,5dB step (Other range on request)
Input Connector:……………………BNC female.
AES/EBU Input Connector:……..BNC female
Composite Response:……………±0.2 dB, 30 Hz to 100 KHz.
THDistortion Noise:…………….0.05% @ 400 Hz
Intermodulation Distortion:………0.05%, 1 KHz/1.3 KHz, 1:1 ratio
FM S/N Ratio:……………………… better than -80 dB RMS ref. ±75 KHz 50 μs de-emph. decoded.
STEREO CODER PERFORMANCE
Audio Input Impedance:………….600 ohm balanced, 15 Kohm unbalanced.
Audio Input Level:………………….-6 to 6 dBm in 0,5dB step (Other range on request)
Input Connector:……………………XLR female.
Audio Frequency Response:…..±0.15 dB, 30 Hz to 15 KHz.
Preemphasis setting:……………..0, 50μS, 75μS
THDistortion Noise:……………..0.05% @ 400 Hz
Intermodulation Distortion:………0.05%, 1 KHz/1.3 KHz, 1:1 ratio
FM S/N Ratio:……………………….-80 dB RMS at ±75 KHz 50 μs de-emphasis.
Pilot Frequency: ……………………19 KHz ± 1 Hz
38 KHz Suppression:……………..-60 dB (typ. -70 dB)
Audio Filter Attenuation:………….< -55 dB @ 19 KHz, < -50 dB 20 KHz to 100 KHz
Stereo Separation:…………………30÷100 Hz = -50 dB, 100Hz÷15 KHz = -60 dB
Crosstalk attenuation:…………….Main to Sub -50 dB 30 Hz to 15 KHz below 100% Mod.
SCA-RDS 1&2 PERFORMANCE
Input Level:…………………………..-6 to 6 dBm in 0,5dB step (Other range on request)
Impedance:…………………………..10k ohms unbalanced
Connector:……………………………BNC female
Amplitude Response:…………….. /- 0.1dB; 53Hz to 100kHz
MECHANICAL/PHYSICAL
Height: ………………………………… 88.2mm (3.5″)
Width: ………………………………….-19″ (48.3 cm) EIA Rack Mount
Depth: ………………………………… 22″ (55.5 cm) with connectors
Weight:…………………………………12 kg 24 lbs unpacked
FM BROADCAST TRANSMITTER 1200W