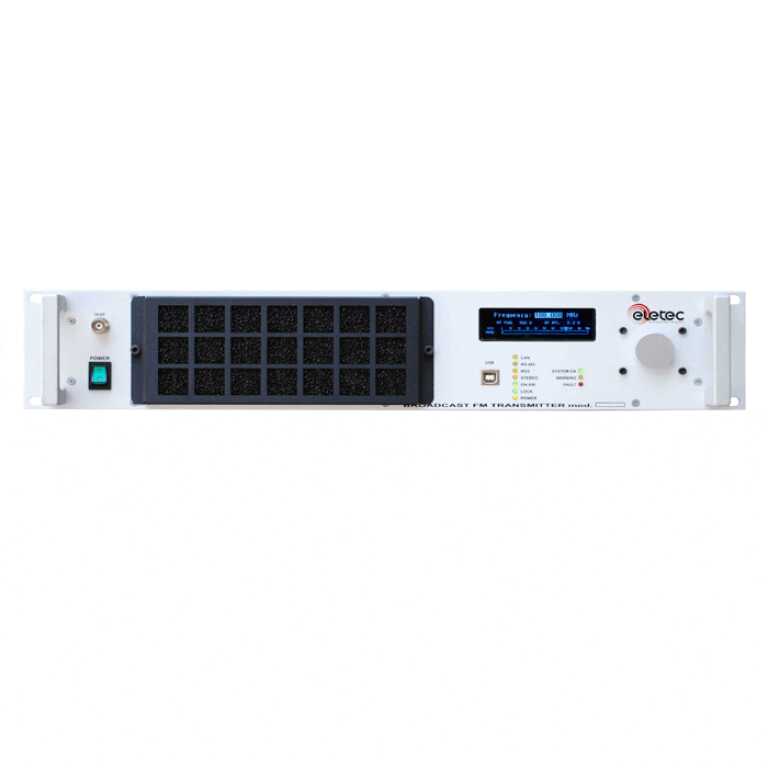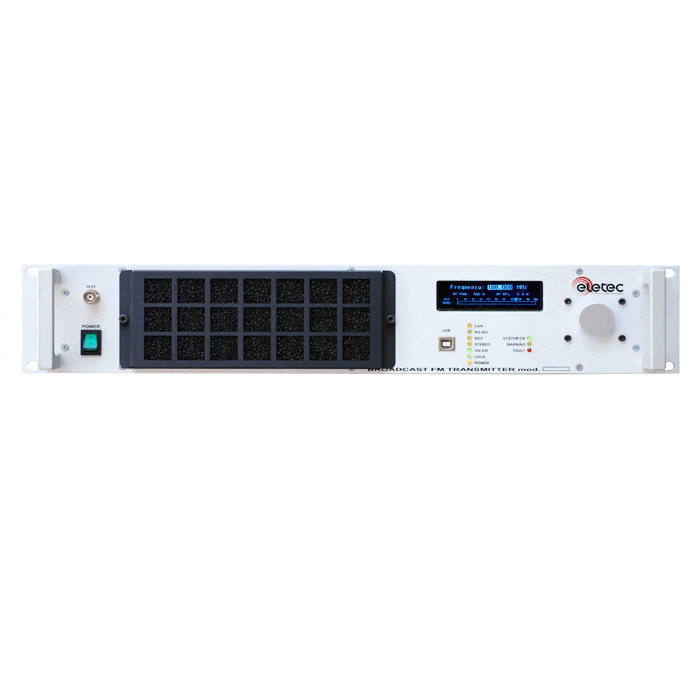 EL600D 600W Digital FM Transmitter
December 15, 2022
DAB Broadcast Transmitters
December 15, 2022
DAB Digital Transmitter
Share
DAB Digital Transmitter
DAB Band III VHF Transmitter
The new DAB Transmitters are reaching the highest technology level in both Digital Signal Processing and RF domain.
Top performances are possible thanks to:
Improved digital adaptive precorrection and configuration flexibility
To meet and exceed all the Digital Radio International Broadcasters requirements, optimizing modulation performances in every working condition.
High-Efficiency new SFK Amplifiers Latest generation LDMOS devices
more rugged and efficient, special low-loss design of matching and combining system, high-efficiency power supplies (over 96%). Widely reduced overall consumption.
Hot pluggable power supplies and RF modules
All RF power modules are hot pluggable (both liquid and air cooled) for an easy and fast maintenance on site. All RF power modules are equipped with hot pluggable independent power supplies for maximum redundancy and easy selection of the operating mode between single phase or balanced three phases. The latest generation of industry higher class power supplies grants over 96% efficiency with wider input AC range capability and greater ruggedness.
Compactness Compact-sized amplifier modules thanks to a new concept of heatsync and ultracompact power supplies, both in air or liquid cooling systems. A 5 kW rms DAB Transmitter in a single rack is just an example of this extreme compactness.
Smart System Design
Latest generation RF combiner technology with ultracompact unbalancing dummy loads and a smart intercommunication interface between RF modules, drivers, and Logical Control System.
Supported standards: DAB, DAB , T-DMB
Excellent MER over 33dB
Very high efficiency
Easy maintenance design
Complete remote control (Web & SNMP)
Compatible with all major headend brands
DAB FEATURES
• Supported standards: DAB, DAB , T-DMB (optional)• Frequency range: VHF (III) 170 MHz to 255 MHz, L band on request.• DAB-Modes: I, II, III, IV.• Network type: MFN, SFN.• Bandwidth 1.536 MHz.• Reference Standard: ITU-T G703-G704, EN 300401, EN 300799, EN 302077-2.• DAB Signal Input – ETI (NI) 2.048 MHz or ETI (NA), according to ETSI EN 300 799 Input Connectors: BNC (F), 75 – EDI (Encapsulation of DAB Interface) according to ETSI TS 102 693 Input Connectors: Ethernet, RJ45• Typical MER >33dB at all power levels and in all channels with shoulders >37dB without mask filter.• Integrated GPS/Glonass Professional Receiver.• Built-in high stability OCXO.• Fully qualified for SFN – Hitless input switching• Seamless switching between EDI/ETI inputs without broadcasting interruption.• Integrated SNMP management with events log.• Integrated GbE interface for management• Digital linear adaptive pre-correction.• Digital non-linear adaptive precorrection with automatic curves loading for each channel and power levels.• Wide Range Power Supply 90-264 V AC (3 phase) in fuse-free configuration (SW Standby Switch).• Quick-acting protection circuits against overpower and direct/reflected power.• Protection against reflected power with automatic fold-back.• Easy SW/FW update.• Security Authentication for GUI access • High Definition Color Display.