Compact 500W DAB Transmitter
December 15, 2022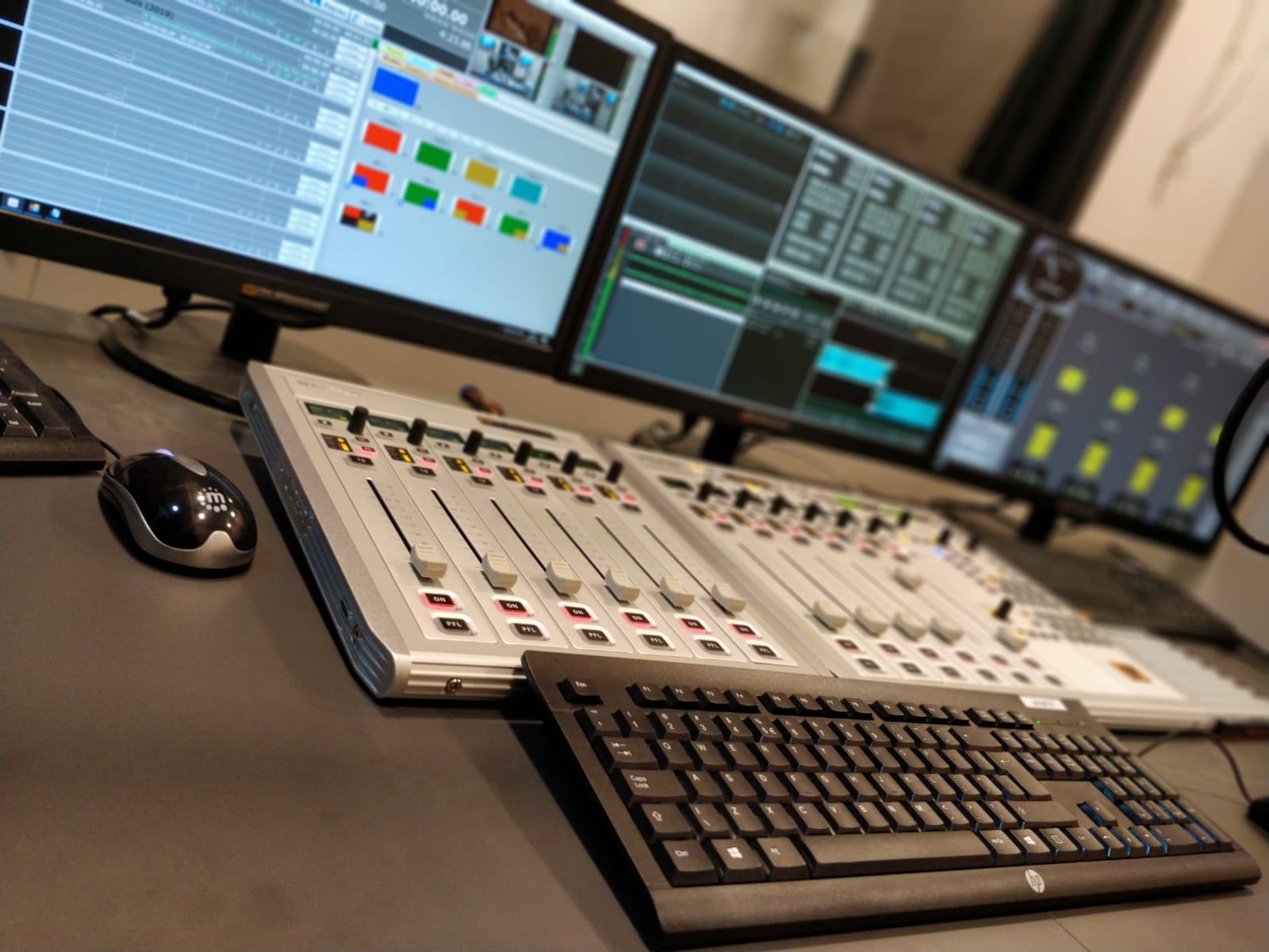 BROADCAST FURNITURE
December 15, 2022 ELD6000 FM Transmitter 6000W, stereo Eletec FM Transmitters
ELD6000 FM Transmitter 6000W, stereo – Eletec FM Transmitters
High Power 6kW FM Transmitter Broadcast Equipment
Eletec ELD6000 FM Stereo Transmitter is the New Compact 4U – 6 kW FM transmitter
The new ELD Series are Compact FM Transmitters-Amplifiers High Efficiency with IP remote control included.
The touch screen display grant an easy and fast access to all the setting and parameters.
This quality transmitter has a lot of features you wont find on any other FM transmitters based on the last generation of RF Devices that greatly increases the total equipment efficiency and reliability reducing dimension and weight.
ELD6000 6kw FM Transmitter
Compact FM Transmitters-Amplifiers
The Main Features are :
• Highest efficiency  (>85% RF section)
• Nominal RF power 6000W
• Very low signal noise typ. -82 dB
• High stereo performance typ. 60 dB
• Extremely low distortion 0,01%
• Completely broadband
• 6th LD-MOS generation VSWR 65:1
•Web server and Mobile Interface
• Large LCD color display with touch panel
• AC mains 90-260 VAC extend range with PFC
• CCIR & FCC compliant
• Remote Control through mobile APP
• Web server
OPTIONS
• AES/EBU
• RDS/RBDS coder
• SNMP remote control
• OIRT and JPN version
• Audio over IP
• DSP FM Modulator
General
Power Output:6000W, adjustable from front panel.
RF Output Impedance: 50 ohm.
RF Output Connector: "7/8".
Monitor RF: BNC connector.
VSWR: 1,5:1
Frequency Range: 87.5 ÷ 108.00 MHz, only for analog on request
66 ÷ 74 MHz ( OIRT), 76 ÷ 90 MHz (JPN) Programmable in 10 kHz steps.
Frequency Stability: ±1 ppm from -5 to 45°C.
External Reference: 10 MHz SMA connector back panel.
Type of Modulation: DS series analog synthesis, Option full digital
synthesis.
Off Lock Attenuation: = -80 dBc.
Modulation Capability: ±150 KHz.
Limiter built in
Power Good Detector: adjustable from20÷90% of the power.
Audio Presence Detector: adjustable time from front panel.
External AGC: Automatic, with fine ADJ from front panel.
Modulation Mode: Mono, Stereo, Multiplex, SCA, RDS, Aux.
Preemphasis: Flat/50/75µs selectable from front panel.
Asynchronous AM S/N Ratio: -70 dB.
Synchronous AM S/N Ratio: -65 dB .
RF Harmonics: Exceeds EBU/CCIR/FCC requirements.
RF Spurious: Exceeds EBU/CCIR/FCC requirements.
MONAURAL OPERATION
Audio Input Impedance: 600 ohm – =10 Kohm balanced.
Audio Input Level: Digital -12 to 12 dBm, Analog -6 to 12 dBm
Input Connector: XLR female.
Audio Frequency Response: ±0.1 dB, 30 Hz to 15 KHz.
Total HarmonicDistortion Noise: 0.01% @ 400 Hz.
Intermodulation Distortion: 0.01%, 1 KHz/1.3 KHz, 1:1 ratio.
Transient Intermodulation Distortion: 0.01% 2.96KHz square wave and
14 KHz sine wave.
Distortion: 0.01% 2.96KHz square wave and 14 KHz sine wave.
FM S/N Ratio: -80 dB rms detector,-75 dB below ±75 KHz deviation.
STEREO OPERATION
Audio Input Impedance: 600 ohm – =10 Kohm balanced.
Audio Input Level: Digital -12 to 12 dBm, Analog -6 to 12 dBm Input
Connector: XLR female.
Audio Frequency Response: ±0.1 dB, 30 Hz to 15 KHz.
Total Harmonic Distortion Noise: 0.01% @ 400 Hz.
Intermodulation Distortion: 0.01%, 1 KHz/1.3 KHz, 1:1 ratio.
Transient Intermodulation Distortion: 0,01% 2.96KHz square wave and
14 KHz sine wave.
FM S/N Ratio: -80 dB rms detector, -75 dB below ±75 KHz deviation.
Stereo Separation: Digital 20 Hz ÷ 15 KHz = -60dB, Analog -45 dB@30Hz
= -60dB@ Freq = 100 Hz
Crosstalk attenuation: Digital Main to Sub -70 dB 30 Hz to 15 KHz,
Analog = 45 dB@15kHz.
38 KHz Suppression: = -85 dB.
Pilot Frequency: 19 KHz ± 1 Hz
Output Pilot: Digital 1 Vpp. BNC female, analog 2Vpp adjustable from
front panel
MULTIPLEX OPERATION
Composite Input Impedance: 2 Kohm unbalanced.
Composite Input Level: Digital -12 to 12 dBm, Analog -6 to 18 dBm
Input Connector: BNC female.
Composite Amplitude Response: ±0.1 dB, 30 Hz to 100 KHz.
Total Harmonic Distortion Noise: 0.01% @ 400 Hz.
Intermodulation Distortion: 0.01%, 1 KHz/1.3 KHz, 1:1 ratio.
Transient Intermodulation Distortion: 0.01% 2.96KHz square wave and
14 KHz sine wave.
FM S/N Ratio: -80 dB rms detector, -75 dB below ±75 KHz deviation
AES/EBU OPERATION (optional for Analog)
Input Connector: XLR female, optical TOS-LINK.
Data Format: S/PDF,AES/EBU, IEC958, EIAJCP340/1201.
D/A Converter: 24 bit.
Sampling Frequency: from 32 to 96 KHz.
AUDIO IP (optional)
Lan: Audio IP and Web interface to control and configure
Transport protocol: RTP over UDP;
Protocols: RFE Codec: Alaw,OGG VORBIS, MP3, AAC
SHOUTCAST/ICECAST Codec : TX MP3, RX AAC, AAC , MP3,
OGG(icecast 2.x)
SCA, RDS, AUX OPERATION
Input Impedance: = 2 Kohm.
Input Level: -6 to 12 dBm.
Frequency Response: ±0.1 dB, 50 KHz to 100 KHz.
Input Connector: BNC female.
AUXILIARY CONNECTIONS
RS485: DB9 connector back panel.
CAN BUS (optional): DB9 connector back pane
Telemetry Interface: connector DB25 back panel.
LAN: RJ45 connector back panel
MPX OUT: connector BNC back panel.
OPTIONS
RDS/RBDS Programmable Coder via PC.
OIRT or JPN version.
SNMP
Audio Over IP
AES/EBU (only for Analog)
ELECTRICAL
AC Input Power: 90÷260 VAC 50/60 HZ single phase.
AC Apparent Power Consumption: 8500VA
Cos Ф> 0.98.
Cooling: Forced air.
Acoustic noise:< -56 dBa @ 1 meter.
ENVIRONMENTAL
Operating temperature: -5°C to 50°C.
Max Operating Altitude: 2000 mt.
Relative Humidity Range: 0 to 90%.
PHYSICAL DIMENSION
Mounting: Standard 19″ chassis 4 U rack.
Size: W x 483 mm. D x 600 mm. H x 176 mm.
Weight: ~ 28Kg